Hands-on with the Canon EOS 800D: the perfect camera for beginners
Canon EOS 800D is suitable for users who are just starting to read photos but need good image quality. Compared to previous products such as 700D and 750D, the 800D product is a perfect upgrade when it incorporates two new technologies into the product: the latest DIGIC 7 image processor and Dual Pixel CMOS autofocus – a system phase-detection Intelligent Focus System that tracks subject movement, ensuring it's always in focus whether shooting or recording.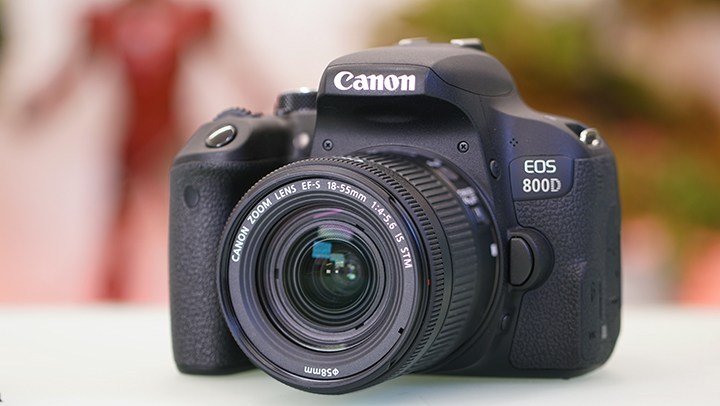 For example, people often used to film or take photos of children, but children are always active and running around, the intelligent subject tracking function of Dual Pixel AF is a useful tool for users. Get the best definition movies or photos.
We try to compare parameters with 700D and 750D cameras, there are many differences. For example, the two machines mentioned above are products using the Cannon DIGIC 6 image processor combined with the Hybrid CMOS AF III focusing system. Meanwhile, the 800D has been fully upgraded to the Canon Digic 7 image processor combined with Dual Pixel AF (which was previously only available in midrange and high-end DSLR cameras ), which increased the performance of the range. light sensitivity), noise reduction and autofocus have been optimized for moving subjects (focus speed down to 0.03s). Additionally, the 800D is designed to be lighter than the compact case, with fewer custom wheels and plenty of intuitive buttons. It features a 1.04 million dot touchscreen LCD with an interface optimized for beginners.
Additionally, the EOS 800D weighs only around 485 grams (body) and is ideal for photographers, architects or designers who want a camera that is easy to carry, compact and has a touchscreen interface. f/4-5.6 IS STM (215 grams) with a standard compact zoom lens makes it easier for users to locate and find its functions. This lens is much smaller than similar kit lenses, so it will be the perfect choice for users.
Another feature upgraded by Canon for the camera is the digital image stabilization (IS) system for video recording. Thus, the EOS 800D is one of the first DSLRs in Canon's EOS range to be equipped with a digital image stabilization system for video recording. In fact, it uses a built-in gyro sensor to detect and reduce shaking through electronic compensation, to make the frame more stable, for a clearer picture. This system combined with Dual Pixel AF and IS on Canon lenses will result in a much more stable image than conventional camcorders.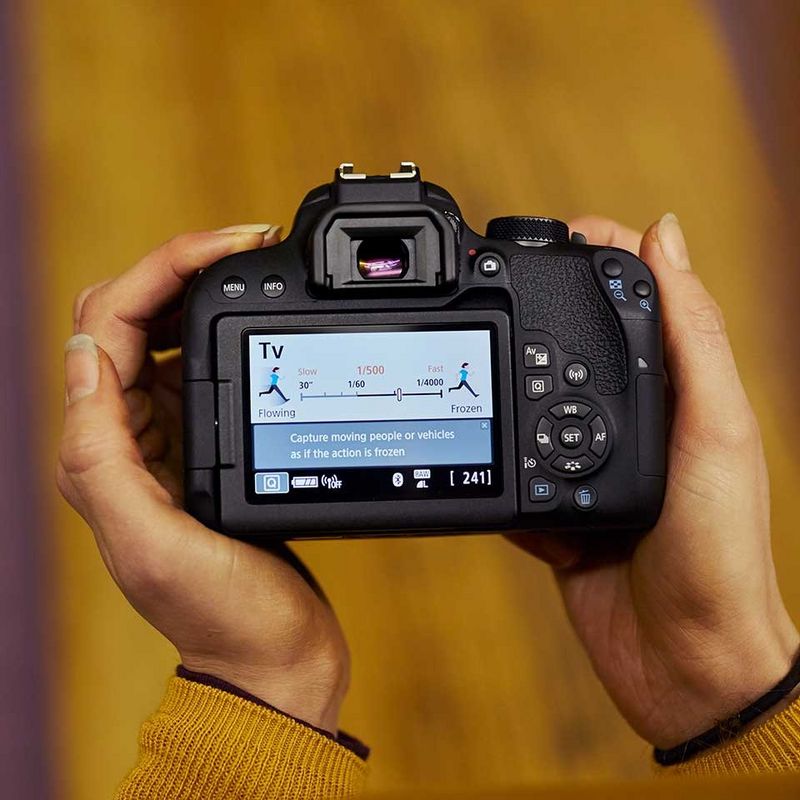 For designers who love Time Lapse photography, the 800D is a very interesting choice as the camera's Time Lapse feature will allow users to shoot interesting and fashionable movies today. By setting the camera to take selfies at predetermined intervals, users can capture various scenes such as moving clouds or traffic at a certain busy intersection.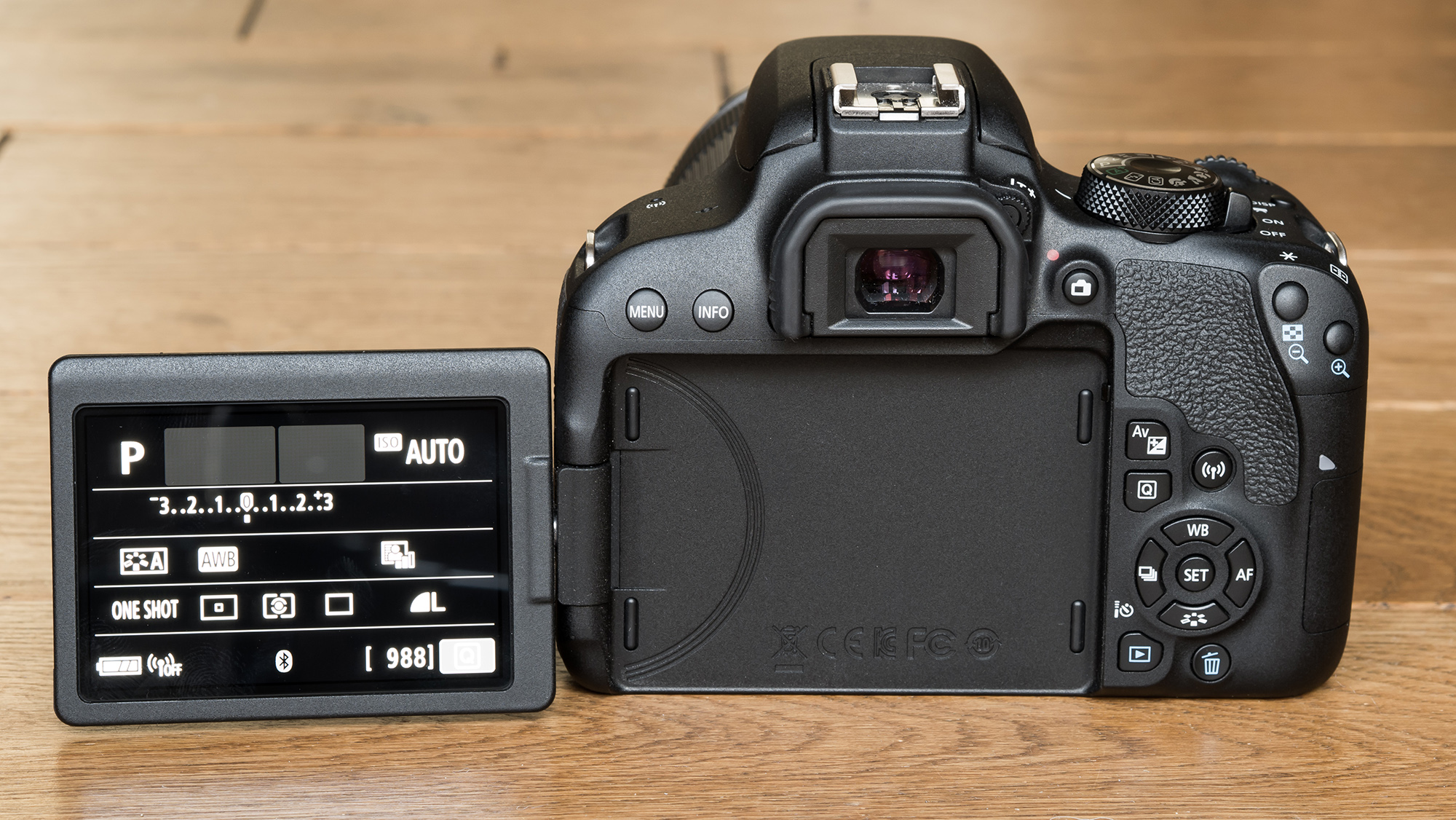 As for users new to photography, unfamiliar with camera settings such as P, Tv, Av… or manual settings to render the best image quality, the 800D has integrated an interesting feature which is the fashion. as well as photography tips, annotations and illustrations will help beginners understand the difference between shooting modes more deeply. And users with more experience with DSLR cameras will also have more flexibility when disabling the streamlined interface.
One of the photography techniques that requires users to have experience in handling is group photography, the Canon 800D has added a group photo shooting mode. In fact, this feature automatically adjusts speed and ISO accordingly so users can shoot at apertures from f/8 to f/1 to widen the field of view, so every subject in the group shot is clear portraits of every person, without fear of losing focus on subjects at the edges or corners of the screen.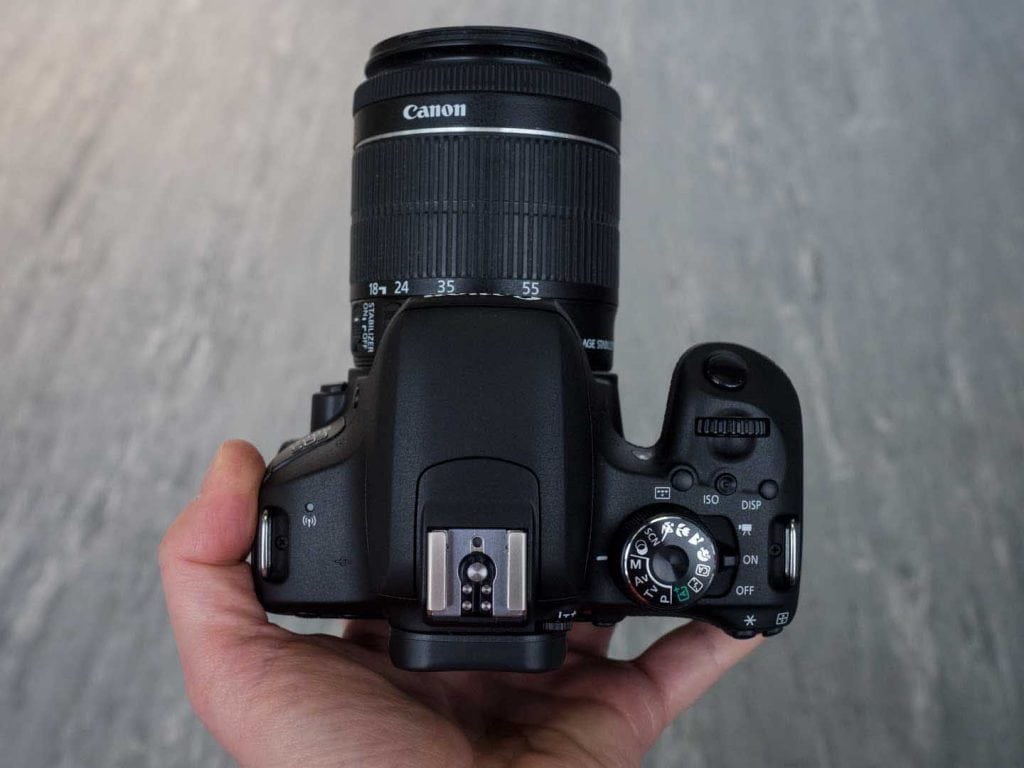 To be more suitable, on the 800D, the LCD screen also allows many angles to be changed such as rotation, 180 degree tilt to help photography enthusiasts capture unique and creative angles in the right design style. , such as a top-down or bottom-up overlay. or the perfect group or individual selfie.
A set of useful built-in features is Wi-Fi and NFC connectivity, users can transfer photos and videos from camera to other smart devices and upload photos to Canon Image Gateway, which is the back- plan.Social network platform specializing in multimedia and online storage. And when using the Canon Camera Connect app, users can adjust camera settings remotely, instantly, such as shutter speed setting, focus area, setting automatic shooting time and more.
Additionally, the EOS 800D supports Bluetooth Low Energy to maintain a constant connection to another compatible smart device without consuming too much power. With such a constant connection, users can view photos and shoot remotely even when the camera is in Auto Power Off mode. Smart devices with Bluetooth can "wake up" the camera and switch to Wi-Fi to browse and view captured images, or perform remote shooting (live view is supported).
Canon EOS 800D Specifications
Dimensions: approx. 131.0 x 99.9 x 76.2mm
Weight: about 485g (body)
Image sensor: 24.2 million dot APS-C CMOS
Image processor: DIGIC 7
ISO: 100-25600 (expandable to 51200)
Continuous shooting speed: approx. 6 fps
Maximum video quality: Full HD 60p
Autofocus: 45-point diagonal AF
Wireless connection: Wi-Fi / NFC / Bluetooth
LCD: 3-inch multi-angle touch screen (approx. 1.04 million dots)
EF-S18-55mm f/4-5.6 IS STM lens
Focal length: 18-55mm
Maximum aperture: f/4-5.6
Minimum focus distance: 0.25m
Maximum zoom: 0.25x
Lens construction: 12 elements in 10 groups
Filter size: 58mm
Number of aperture shutters: 7
Dimensions (length x width): approx. 61.8 mm x 66.5 mm
Weight: about 215 grams
See the product here: http://top35mm.com/canon-800d-body